Why Empathy Is Critical When Disaster Strikes
When a boatload of tourists was involved in an incident in remote northwest Australia, and more than a dozen were taken to the hospital – some with serious injuries – you might expect the company to express shock and empathy, especially when disaster strikes. But apparently not. According to media reports, the only statement from the tour operator was to advise they were working with authorities to help the injured passengers and liaising with emergency services.
The incident took place late last month at the Horizontal Waterfalls, a tourist attraction where tides surge through narrow chasms at Talbot Bay, 250 miles northeast of Broome. When police said passengers on the tour boat had been thrown into the sea, with crocodiles and box jellyfish in the area, the company issued a second statement denying the police version of events. "The vessel did not capsize and no passengers were in the water," the statement said. "The boat immediately returned to the pontoon." We probably won't know for months the official version of what took place.
But we do know that for the injured people in the hospital, a timely corporate message of sympathy and display of empathy would have been welcome. Of course, this company is not alone in taking a very cautious approach to communication after an accident.
Why Showing Empathy During A Disaster Is Important
For example, when a jumping castle at a school in Tasmania was lifted into the air by a wind gust in December – with six children killed and three injured – the incident made national and international headlines.  Yet the company which supplied the attraction appeared to remain silent when disaster strikes.
One media story said the company had shut down its website and Facebook page and "gone into hiding" in the wake of the tragedy.  It was reported a person who answered their listed mobile number said: "I'm sorry, I can't answer any questions".
As with the Western Australian incident, an official investigation will eventually reveal what went wrong and who was responsible. But when high-profile accidents happen, there should be no legitimate barrier to immediately expressing empathy and doing the right thing.
Consider the roller coaster accident at the Alton Towers theme park in Staffordshire, England, in 2015, where 16 people were injured. CEO Nick Varney immediately went to the scene and declared the company took full responsibility. After they were fined for health and safety breaches he said: "From the beginning, the company has accepted full responsibility for the terrible accident at Alton Towers and has made sincere and heartfelt apologies to those who were injured. In accepting responsibility and liability very early on we have tried to make the healing and compensation process as trouble-free as possible for all of those involved." His company even paid for the families' injury lawyers.
Their Corporate Affairs Director later told the BBC the company chose not to have a long consultation with lawyers and other advisors. "Our immediate response and subsequent actions were driven by a desire to do what we believed was the right thing by all those affected by the accident," he said. "We didn't try to hide behind lawyers."
In the case of the jumping castle and tour boat incidents, we don't know what legal advice, if any, was sought or provided. However, they highlight that even when disaster strikes, expressing empathy and sympathy for victims should be a critical part of an effective crisis response.
A Parting Thought
Sometimes saying you're sorry is not only the right thing to do, but
also the least expensive.
– Dave Carroll
---
Tony Jaques is an expert in crisis response, communication, and reputation management. Navigating through a communication conundrum is not always easy!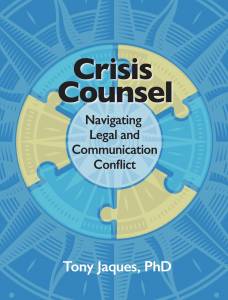 "Crisis Counsel confirms Tony Jaques position as one of the industry's foremost experts on issues and crisis management. In addressing the complex interactions between legal and communication crisis responses Dr. Jacques provides riveting case studies and practical advice. It highlights the financial and reputation risks of not effectively integrating communications and legal counsel. It should be on every communications practitioner's reading list and companies should insist their in-house and external legal counsellors read it."
– Noel Turnbull, Former Chair of Turnbull Porter Novelli, Adjunct Professor, RMIT University.
"Senior managers who find themselves in the C-suite for the first time, Crisis Counsel should be mandatory reading. Such specific legal and communications provocations are not covered in university management courses, and the introduction is replete with illuminating case studies and key takeaways. The author provides sage advice for Chief Executives who must ultimately make a decision based upon what they think is the right thing to do; often under pressure.   Crisis team leaders and team members will find this book equally of value, as the more you know about it, the better you and the team will be."
– Jim Truscott, Director, Jim Truscott & Associates Pty Ltd, Perth, Australia
"For far too long, the role of lawyers in crisis management has been neglected. If discussed at all, it is often in negative terms. Tony Jaques adjusts this picture in masterly, yet eminently readable terms. His comprehensive discussion of apology in crisis management is likely to be a go-to source for years to come. This is a welcome book for anyone interested in how crisis-confronted corporations (and other organizations, too) can navigate the tricky legal waters of communicating under fire. For university teachers like me, it's a rich source of well-researched case studies. A gem!"
– Chris Galloway, PhD, Head of Pubic Relations, Massey University of New Zealand