Don't let a Grey Rhino ignored become a crisis ensured!
by Tony Jaques Ph.D., Director of Issue Outcomes Pty. Ltd. and author of Crisis Counsel: Navigating Legal and Communication Conflict
When twin cryptocurrencies Luna and TerraUSD crashed last month, it seemed a perfect example of a Grey Rhino crisis.
Experts were quick to point out that the warning signs had been there right from the start. As far back as 2018, leading crypto investment expert Cyrus Younessi predicted the project could enter a "death spiral."  "This is crazy," he said at the time. "This obviously doesn't work."
Financial naysayers are common, but Younessi was not alone and a flood of skepticism emerged. Meantime Luna founder Do Kwon mocked his critics: "I don't debate the poor."
Unlike Black Swan events, which are highly improbable, with catastrophic impact, Grey Rhino events – popularized by Michele Wucker – are highly probable, high impact yet neglected threats that occur after a series of warnings and visible evidence. Or as Wucker herself said: "It's a metaphor for missing the big, obvious thing that's coming at you."
Crisis Managers Should Not Ignore Grey Rhinos
It's also a term that has real relevance for issue managers and crisis managers. In fact, Grey Rhino is a useful new name for Predictable Surprises, as championed by Harvard Professors Max Bazerman and Michael Watkins. They argue that many crises are predictable and avoidable. That they happen when leaders have all the data and information they need to recognize the potential, or even inevitability, of major problems, but fail to respond with effective preventative action.
Bazerman and Watkins label these events "the disasters you should have seen coming." Or in this new context perhaps, the Grey Rhinos you should have seen getting ready to charge.
Indeed, the Institute for Crisis Management calculates that about two-thirds of organizational crises are not sudden, unexpected events at all, but are "smoldering crises" which occur after warning signs which should have and could have prompted prior intervention.
The Grey Rhino terminology has most often been referenced in financial crises, such as crypto failures or the near-collapse of Evergreen in China. It would also aptly describe the sole rogue trader whose activities lost the French bank Société Générale $7 billion. An independent panel found the bank failed to act on 75 separate warning signs over 18 months.
But the concept is equally applicable across the whole spectrum of organizational crises. For example, consider the AirAsia Airbus which crashed into the sea off Indonesia because of a maintenance fault that had occurred 23 times in the previous 12 months. The BBC called the official report: "Anatomy of an avoidable crash."
Or, the notorious eye-popping jury-award case where an elderly woman was scalded by hot McDonald's coffee. It was later reported McDonald's had received at least 700 complaints of coffee burns in the previous decade.
Or, the fatal accident at Dreamworld, which the Australian Workers Union claimed followed "a succession of incidents" on rides at the theme park over the previous 18 months.
Preparing For A Grey Rhino Crisis
While there is a sad litany of such warnings ignored or wilful blindness, what can be done to avoid being crushed under the feet of a charging Grey Rhino? The answer, of course, is effective processes to recognize the red flags which precede just about every crisis, and proactive steps to properly prepare before the crisis strikes. For example:
Establish a formal process for issue identification and prioritization.
Actively encourage blame-free upward communication of bad news.
Engage with stakeholders to identify potential issues.
Listen to doubters and critics, not just yes-men.
Support a mechanism for all employees to raise issues and concerns.
Monitor media, call centers, and customer feedback for emerging problems.
Implement proactive planned actions to prevent issues from becoming crises.
Formally assess all incidents and near-misses and take action to manage risk.
As the official report into deadly Hurricane Katrina concluded: There was no failure to predict the inevitability and consequences of the monster storm, but a "failure of initiative" to improve protection.
A Parting Thought
Invest in preparedness, not prediction.
– Nasim Nicholas Taleb in The Black Swan
Tony Jaques is an expert in crisis response, communication, and reputation management. Navigating through a communication conundrum is not always easy!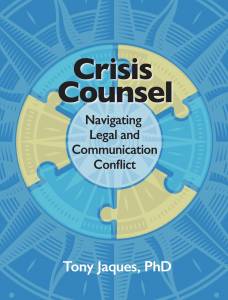 "Crisis Counsel confirms Tony Jaques position as one of the industry's foremost experts on issues and crisis management. In addressing the complex interactions between legal and communication crisis responses Dr. Jacques provides riveting case studies and practical advice. It highlights the financial and reputation risks of not effectively integrating communications and legal counsel. It should be on every communications practitioner's reading list and companies should insist their in-house and external legal counsellors read it."
– Noel Turnbull, Former Chair of Turnbull Porter Novelli, Adjunct Professor, RMIT University.
"Senior managers who find themselves in the C-suite for the first time, Crisis Counsel should be mandatory reading. Such specific legal and communications provocations are not covered in university management courses, and the introduction is replete with illuminating case studies and key takeaways. The author provides sage advice for Chief Executives who must ultimately make a decision based upon what they think is the right thing to do; often under pressure.   Crisis team leaders and team members will find this book equally of value, as the more you know about it, the better you and the team will be."
– Jim Truscott, Director, Jim Truscott & Associates Pty Ltd, Perth, Australia
"For far too long, the role of lawyers in crisis management has been neglected. If discussed at all, it is often in negative terms. Tony Jaques adjusts this picture in masterly, yet eminently readable terms. His comprehensive discussion of apology in crisis management is likely to be a go-to source for years to come. This is a welcome book for anyone interested in how crisis-confronted corporations (and other organizations, too) can navigate the tricky legal waters of communicating under fire. For university teachers like me, it's a rich source of well-researched case studies. A gem!"
– Chris Galloway, PhD, Head of Pubic Relations, Massey University of New Zealand