How the Russia boycott has upended corporate issue activism
The lightning pace of businesses boycotting Russia over the invasion of Ukraine means corporate activism on social and political issues will never be the same.
Official sanctions in support of global diplomacy are nothing new – though never on this scale. But the scope and speed of businesses cutting ties with Russia has set a new benchmark for how individual companies can respond to a cause.
In the midst of Ukraine's military and humanitarian crisis, it seems almost quaint that corporate boards were so recently agonising over whether to lend their business weight to high-profile issues such as vaccine mandates, or climate change, or black lives matter, or same-sex marriage. Such hesitancy appears to have been swept aside in the righteous rush to isolate Russia.
There is no real doubt that the boycott is warranted. Yet setting aside whether it can be effective in moderating Putin's foreign aggression, there are many unanswered questions which go to the heart of effective issue management.
First, there is the carefully crafted corporate language to communicate corporate positions. Such as withdrawing from Russia versus suspending operations, which suggests a desire to promptly return. Or the companies which say they will continue operating in Russia but will not make further investment, or will cease supplying product, or will redirect local franchise profits to humanitarian aid. In the flood of company statements such distinctions might be lost, but they are important, nonetheless.
Then there is the question of how far this Russian boycott will spread, especially for companies in China, where the Government has expressed "regret" about the military action, though abstained on a United Nations resolution condemning Russia's invasion.
In Britain, for example, two highly credentialed non-executive directors of Huawei UK resigned over the failure of the Chinese telecom giant to quickly condemn the conflict in Ukraine. And in the US, Commerce Secretary Gina Raimondo has warned that Washington could "essential shut down" Chinese companies that defy American sanctions on technology exports to Russia.
However, the key unknown is how long these business decisions will endure. At the start of the boycott, it was not a question of who will act first but how to avoid being last. There was a predictable bandwagon effect as companies large and small wanted to be seen taking action, not matter how symbolic. Like when Woolworths in Australia announced its home-brand boneless Chicken Kiev would be renamed Kyiv to reflect the preferred Ukrainian spelling as a "small but meaningful" act of solidarity.
Now that the substantive boycott is in full swing, the much bigger strategic question is when will it be OK to do business in Russia again? With Putin threatening to void intellectual property protection for patent holders registered in countries which Russia deems to be "unfriendly," and threatening to seize assets of commercial organisations which leave Russia, which company will be the first to blink?
For multinational giants such as McDonalds and Starbucks, which have shut down Russian stores but are still paying local staff, when and how does the boycott end? It's a critical executive decision with enormous financial and political implications for many organisations . . . and getting it wrong could trigger a genuine reputational crisis.
With the world watching, none of the big corporate players will want to risk being seen as the first mover, but when does the boycott ease? When massive losses force Russia to withdraw? When shattered Ukraine has no choice but to sue for peace? When Putin manages to install a puppet government? When a prolonged guerrilla war against occupation finally comes to an end?
We may not know the answer for weeks or months. But we do know the Russia boycott will likely become the benchmark for how companies respond to major issues for years to come.
A Parting Thought
The hottest places in hell are reserved for those who, in times of great moral crisis, maintain their neutrality.
Dante Alighieri (1265-1321)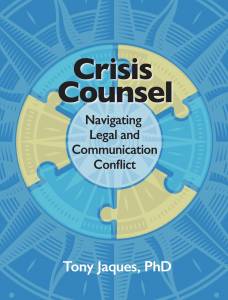 "Crisis Counsel confirms Tony Jacques position as one of the industry's foremost experts on issues and crisis management. In addressing the complex interactions between legal and communication crisis responses Dr. Jacques provides riveting case studies and practical advice. It highlights the financial and reputation risks of not effectively integrating communications and legal counsel. It should be on every communications practitioner's reading list and companies should insist their in house and external legal counsellors read it." – Noel Turnbull, Former Chair of Turnbull Porter Novelli, Adjunct Professor, RMIT University.
"Senior managers who find themselves in the C-suite for the first time, Crisis Counsel should be mandatory reading. Such specific legal and communications provocations are not covered in university management courses, and the introduction is replete with illuminating case studies and key takeaways. The author provides sage advice for Chief Executives who must ultimately make a decision based upon what they think is the right thing to do; often under pressure.   Crisis team leaders and team members will find this book equally of value, as the more you know about it, the better you and the team will be." – Jim Truscott, Director, Jim Truscott & Associates Pty Ltd, Perth, Australia
"For far too long, the role of lawyers in crisis management has been neglected. If discussed at all, it is often in negative terms. Tony Jaques adjusts this picture in masterly, yet eminently readable terms. His comprehensive discussion of apology in crisis management is likely to be a go-to source for years to come. This is a welcome book for anyone interested in how crisis-confronted corporations (and other organizations, too) can navigate the tricky legal waters of communicating under fire. For university teachers like me, it's a rich source of well-researched case studies. A gem!" – Chris Galloway, PhD, Head of Pubic Relations, Massey University of New Zealand