A dramatic shift in the value of intangible assets presents the ill-prepared with potentially insurmountable risks. Tony Jaques suggests reputation may well be a company's most valuable uninsured asset today. And nothing destroys reputation faster or deeper than a crisis mismanaged.
While you can insure against loss events which may impact reputation – such as business interruption, cyber failure, product recalls or public liability – that's not the same as insuring the value of reputation itself, which can be very substantial.
This white paper by Tony Jaques PhD will help you to understand the value of reputation for YOUR organization.
---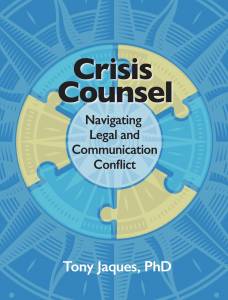 ---
"Crisis Counsel confirms Tony Jacques position as one of the industry's foremost experts on issues and crisis management. In addressing the complex interactions between legal and communication crisis responses Dr Jacques provides riveting case studies and practical advice. It highlights the financial and reputation risks of not effectively integrating communications and legal counsel. It should be on every communications practitioner's reading list and companies should insist their in house and external legal counsellors read it." – Noel Turnbull, Former Chair of Turnbull Porter Novelli, Adjunct Professor, RMIT University.
---
"Senior managers who find themselves in the C-suite for the first time, Crisis Counsel should be mandatory reading. Such specific legal and communications provocations are not covered in university management courses, and the introduction is replete with illuminating case studies and key takeaways. The author provides sage advice for Chief Executives who must ultimately make a decision based upon what they think is the right thing to do; often under pressure.   Crisis team leaders and team members will find this book equally of value, as the more you know about it, the better you and the team will be." – Jim Truscott, Director, Jim Truscott & Associates Pty Ltd, Perth, Australia
---
"For far too long, the role of lawyers in crisis management has been neglected. If discussed at all, it is often in negative terms. Tony Jaques adjusts this picture in masterly, yet eminently readable terms. His comprehensive discussion of apology in crisis management is likely to be a go-to source for years to come. This is a welcome book for anyone interested in how crisis-confronted corporations (and other organizations, too) can navigate the tricky legal waters of communicating under fire. For university teachers like me, it's a rich source of well-researched case studies. A gem!" – Chris Galloway, PhD, Head of Pubic Relations, Massey University of New Zealand