How persistent bad numbers help drive major public issues
by Tony Jaques, Director of Issue Outcomes Pty Ltd, for people who work in issue and crisis management
Australia's decision to ban all non-prescription vapes highlights how lobbyists and activists sometimes misuse data in an attempt to influence major public issues.
While the government announced in May it will limit e-cigarettes to smokers who genuinely want to quit, the industry around the world has for years been defending itself with zombie numbers – unreliable or unfounded information repeated so often it becomes accepted as fact.
Australian lobbyists arguing against a ban on recreational vaping cited the frequent declaration that "e-cigarettes are 95% less harmful than tobacco cigarettes".  However, this claim – first published in 2014 – was never more than a guesstimate, and experts quickly dismissed it as based on "an extraordinarily flimsy foundation" and "an almost total absence of evidence".
Yet the use of such zombie data – technically called the 'continued influence effect' – has a significant role in attempts to shape major public issues, and these questionable numbers are notoriously hard to dislodge.
For example, anti-alcohol activists and others in New Zealand consistently use the headline-friendly figure of $NZ7 billion as the annual "cost of alcohol harm." This is despite independent economists and Government ministers rejecting the basis of a 2009 study. Experts say the original study included double-counting and inclusion of items that should not have been counted, yet the number lives on, escalated on the basis of inflation.
Another dubious claim which lives on is the often repeated zombie number that Americans use 500 million plastic straws a day, which helped drive a global movement to ban them. That number was estimated by 9-year-old Milo Cress in 2011 after calls to a few manufacturers and was subsequently repeated in major news outlets around the world.  However, expert analysis showed his number was wildly inaccurate, and in 2018, 17-year-old Milo argued the precise number is less important than the waste.
Or consider the claim that 8 million metric tons of plastic waste are dumped into our oceans every year – at the rate of one garbage truck load a minute – and that there will be more plastic than fish in the sea by 2050.
Again very dramatic numbers, widely reported and frequently repeated, but a BBC investigation suggested this data is – at best – unproven and highly speculative.
They found the original research was based on plastic in San Francisco Bay, extrapolated to the rest of the world. They also found that the estimate to 2025 had been projected forward by others to 2050, even though the original scientist said she was not confident her work could be used in that way.
Another widely repeated claim is that the fashion industry is the world's second biggest environmental polluter, behind big oil. This bold claim is supported by other zombie data such as "nearly 20 percent of global wastewater is produced by the fashion industry" and "the fashion industry is responsible for 10 percent of annual global carbon emissions".
However, an investigation by the New York Times to track the number down found there is no credible, verifiable source that will accept responsibility for the whole "second biggest" idea.
In fact, while the claim is catchy, easy to remember, and easy to believe, Jason Kibbey, chief executive of the Sustainable Apparel Coalition, has concluded: "It is not factually true".
Make no mistake, excessive alcohol consumption, smoking, plastic pollution, and the environmental impact of fast fashion are all important issues. But they should be discussed and regulated on the basis of accurate data, not simply dramatic numbers, which are more likely to be repeated in a media echo-chamber that discourages critical thinking.
When it comes to resolving important public issues, communicators and issue managers need to call out bogus or misleading statistics and help prevent them from contaminating legitimate debate.
A Parting Thought
The fewer the facts, the stronger the opinion.
Arnold H. Glasow
Tony Jaques is Director of Issue Outcomes Pty Ltd, for people who work in issue and crisis management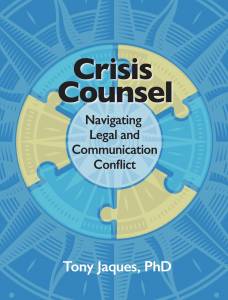 "Crisis Counsel confirms Tony Jacques' position as one of the industry's foremost experts on issues and crisis management. In addressing the complex interactions between legal and communication crisis responses Dr. Jacques provides riveting case studies and practical advice. It highlights the financial and reputation risks of not effectively integrating communications and legal counsel. It should be on every communications practitioner's reading list and companies should insist their in-house and external legal counsellors read it." – Noel Turnbull, Former Chair of Turnbull Porter Novelli, Adjunct Professor, RMIT University.
"For senior managers who find themselves in the C-suite for the first time, Crisis Counsel should be mandatory reading. Such specific legal and communications provocations are not covered in university management courses, and the introduction is replete with illuminating case studies and key takeaways. The author provides sage advice for Chief Executives who must ultimately make a decision based on what they think is the right thing to do; often under pressure.   Crisis team leaders and team members will find this book equally of value, as the more you know about it, the better you and the team will be." – Jim Truscott, Director, Jim Truscott & Associates Pty Ltd, Perth, Australia
"For far too long, the role of lawyers in crisis management has been neglected. If discussed at all, it is often in negative terms. Tony Jaques adjusts this picture in masterly, yet eminently readable terms. His comprehensive discussion of apology in crisis management is likely to be a go-to source for years to come. This is a welcome book for anyone interested in how crisis-confronted corporations (and other organizations, too) can navigate the tricky legal waters of communicating under fire. For university teachers like me, it's a rich source of well-researched case studies. A gem!" – Chris Galloway, PhD, Head of Public Relations, Massey University of New Zealand