How has apologising become so damned contentious?
by Tony Jaques, Director of Issue Outcomes Pty Ltd, for people who work in issue and crisis management
Gay Pride football jerseys. Splendour in the Grass. Will Smith. Whoopi Goldberg. When and how to apologise has always been a challenge. But new media demands and expectations – sometimes aided by arrogance and poor judgement – are making it harder to do the right thing and avoid further controversy.
Apologising has become increasingly controversial in the media
Two recent incidents highlight that even seemingly well-intentioned apologies can be criticised by media which thrive on outrage and unwillingness to be satisfied.
When some footballers at the Manly-Warringah Sea Eagles refused to wear a Gay Pride jersey the public outcry was predictable. Yet so much of the coverage was about micro-analysing the apology by coach Des Hasler rather than the complex issues behind the player refusal. Even the NRL's own official website wrote: "'Significant mistake': Hasler makes wide-ranging apology over jersey handling."
Similarly, when the Splendour in the Grass music festival at Byron Bay turned in a disastrous mud bath, so much media focus was on the adequacy or otherwise of the organisers' apologies rather than the undoubted challenges of managing a weather-plagued event. The headline on news.com typified that tone: "Splendour in the Grass organisers issue second grovelling apology after festival turns to chaos".
Shortly afterwards came Will Smith's long-delayed video apology for his infamous assault at the Oscars in March. But here too the focus was largely on the public's assessment rather than the apology itself. The New Daily, for example, was in no doubt about what they thought was most important: "Road to redemption? Jury still out on Will Smith's career after 'slap' apology."
The challenges of apologising
Apologising has long been a challenge, but there now seems to be a growing belief that the key purpose of an apology is to satisfy the mob. And even that the mob decides when an apology is necessary.
Take the case in May when the solution to the daily online word game "Wordle" was FETUS. Some people may have felt it was insensitive. But was it necessary for the New York Times to issue a formal apology?
Or consider when the Director at France's Atomic Energy Commission posted a picture earlier this month purportedly showing Proxima Centauri, the closest star to our sun. It was in fact a closeup of a slice of chorizo sausage, which he described it as "a scientist's joke". Yet when some Twitter users claimed it was inappropriate, he said he "had no choice but to apologise."
He did of course have a choice. It's all too true that people accused of unacceptable comments or behaviour will often try to defend themselves by saying "it was a joke". But this clearly was a joke. Did it actually warrant an apology?
When is it considered a good apology and when is it a considered a bad apology?
Sadly, when an apology truly is warranted, so many people still persist with attempting the "non-apology". The year started badly when Whoopi Goldberg was briefly suspended from her TV talk show after she argued that the Holocaust was not the result of racism. In the face of a social media firestorm she said: "I don't want to fake apologise. I am very upset that people misunderstood what I was saying."
As the celebrity website Pajiba.com headlined their report: "Whoopi Goldberg says something dumb, apologises, then doubles down."
Blaming others for misunderstanding is one of those classic non-apologies, along with "I'm sorry if you were upset" and "Mistakes were made" and "This is not who we are".
But a new inductee into the Non-Apology Hall of Shame would have to be conspiracist Alex Jones after being ordered to pay millions to the family of one of the child victims of the Sandy Hook school shooting. He had spent ten years claiming it was a hoax and now says: "I admit I made a mistake. I admit I followed disinformation. But not on purpose. I apologise to the families. What I did to the families was wrong. But I didn't do it on purpose."
You didn't do it on purpose? Really? Nice try Mr. Jones. Take a bow.
A Parting Thought
It is a good rule in life never to apologise.
The right sort of people do not want apologies, and the wrong sort take mean advantage of them.
– P. G. Wodehouse
Tony Jaques is Director of Issue Outcomes Pty Ltd, for people who work in issue and crisis management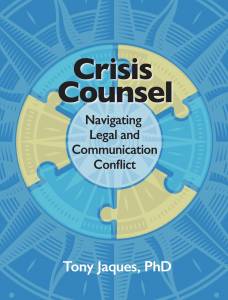 "Crisis Counsel confirms Tony Jacques position as one of the industry's foremost experts on issues and crisis management. In addressing the complex interactions between legal and communication crisis responses Dr. Jacques provides riveting case studies and practical advice. It highlights the financial and reputation risks of not effectively integrating communications and legal counsel. It should be on every communications practitioner's reading list and companies should insist their in house and external legal counsellors read it." – Noel Turnbull, Former Chair of Turnbull Porter Novelli, Adjunct Professor, RMIT University.
"Senior managers who find themselves in the C-suite for the first time, Crisis Counsel should be mandatory reading. Such specific legal and communications provocations are not covered in university management courses, and the introduction is replete with illuminating case studies and key takeaways. The author provides sage advice for Chief Executives who must ultimately make a decision based upon what they think is the right thing to do; often under pressure.   Crisis team leaders and team members will find this book equally of value, as the more you know about it, the better you and the team will be." – Jim Truscott, Director, Jim Truscott & Associates Pty Ltd, Perth, Australia
"For far too long, the role of lawyers in crisis management has been neglected. If discussed at all, it is often in negative terms. Tony Jaques adjusts this picture in masterly, yet eminently readable terms. His comprehensive discussion of apology in crisis management is likely to be a go-to source for years to come. This is a welcome book for anyone interested in how crisis-confronted corporations (and other organizations, too) can navigate the tricky legal waters of communicating under fire. For university teachers like me, it's a rich source of well-researched case studies. A gem!" – Chris Galloway, PhD, Head of Pubic Relations, Massey University of New Zealand