An advertising mistake helped lose $100 billion … and who's to blame?
by Tony Jaques, Director of Issue Outcomes Pty Ltd, for people who work in issue and crisis management
When an advertisement goes terribly wrong who's to blame? That surely must have been the question at Google after the launch of their new AI tool Bard.
An accompanying online advertisement showed the Chatbot wrongly answering a simple question, saying the James Webb Space Telescope was the first to take pictures of a planet outside the earth's solar system, when that milestone was truly claimed by the European Very Large Telescope in 2004.
While there were doubtless other contributing factors, the share value of parent company Alphabet dropped by $100 billion and lost further value the next day.
As British astronomer Chris Harrison commented; "Why didn't you fact-check this example before sharing it?" Which is a fair question. Maybe try Googling it?
Most advertising failures are not as costly, but whose job is it to prevent such mistakes from becoming reputational crises?
The advertising department seems to be the obvious answer, yet what about legal checking for compliance, or public relations checking for reputation risk, or brand management checking for stakeholder understanding?
It's too easy to "blame the intern" – as when a Trump promotional poster carried the message "We need real leadership" and showed marching soldiers outlined against the American flag. It was in fact a stock photo of Waffen SS Nazi storm-troopers.
Or to blame that classic standby "a production error" – as when  Channel Seven in Australia failed to disclose that onscreen reporting was paid advertorial.
However, such excuses will probably not help Mercer Super, which has just become the first Australian company to be sued over alleged greenwashing in advertising.
The Australian Securities & Investments Commission launched court action against Mercer over alleged "misleading statements about the sustainable nature and characteristics of some of its superannuation investment options".
The case relates to seven 'Sustainable Plus' investment options offered by the Mercer Super Trust, which were marketed to members who were "deeply committed to sustainability". Mercer's advertising copy said these options intentionally excluded investments in fossil fuel companies, as well as alcohol and gambling companies.
But the corporate watchdog alleges the products actually invested in no fewer than 15 companies involved in the extraction or sale of carbon-heavy fossil fuels, 15 companies selling alcohol, and 19 gambling organizations.
While this matter is now before the court, the expectation is the case will publicly resolve the question of who was to blame and "where the buck stops".
In high-profile reputational crises, the media often apply the label "PR Disaster", suggesting the blame lies with corporate communicators or external public relations advisors. In reality, it is seldom revealed whether good communication advice was given and ignored, whether bad advice was accepted, or indeed whether professional communicators were even asked for input.
So what's the best answer when advertising goes wrong? Maybe not even trying to make an excuse or assign blame, but rather some smart PR. In the wake of the recent disastrous cyclone which ravaged New Zealand, someone at local retailer Bed Bath and Beyond approved an email flyer advertising "Cyclone Strength Sales" and "Extreme Deals" for three days.
Just hours later the Kiwi company issued a fresh email. "We got it really wrong today and genuinely apologize for the thoughtless heading in our email to customers. By no means was our intention to make light of cyclone Gabrielle or its devastating effects. Our thoughts go out to everyone affected by the cyclone and we will continue to support those impacted across New Zealand through this tough time."
Perhaps bigger organizations could learn something from how it was handled.
+++++++++++++++++++++++++++++++++++
A Parting Thought
"Experience is the name everyone gives to their mistakes."
Oscar Wilde
+++++++++++++++++++++++++++++++++++
Tony Jaques is Director of Issue Outcomes Pty Ltd, for people who work in issue and crisis management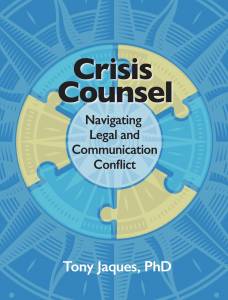 "Crisis Counsel confirms Tony Jacques' position as one of the industry's foremost experts on issues and crisis management. In addressing the complex interactions between legal and communication crisis responses Dr. Jacques provides riveting case studies and practical advice. It highlights the financial and reputation risks of not effectively integrating communications and legal counsel. It should be on every communications practitioner's reading list and companies should insist their in-house and external legal counsellors read it." – Noel Turnbull, Former Chair of Turnbull Porter Novelli, Adjunct Professor, RMIT University.
"For senior managers who find themselves in the C-suite for the first time, Crisis Counsel should be mandatory reading. Such specific legal and communications provocations are not covered in university management courses, and the introduction is replete with illuminating case studies and key takeaways. The author provides sage advice for Chief Executives who must ultimately make a decision based on what they think is the right thing to do; often under pressure.   Crisis team leaders and team members will find this book equally of value, as the more you know about it, the better you and the team will be." – Jim Truscott, Director, Jim Truscott & Associates Pty Ltd, Perth, Australia
"For far too long, the role of lawyers in crisis management has been neglected. If discussed at all, it is often in negative terms. Tony Jaques adjusts this picture in masterly, yet eminently readable terms. His comprehensive discussion of apology in crisis management is likely to be a go-to source for years to come. This is a welcome book for anyone interested in how crisis-confronted corporations (and other organizations, too) can navigate the tricky legal waters of communicating under fire. For university teachers like me, it's a rich source of well-researched case studies. A gem!" – Chris Galloway, PhD, Head of Public Relations, Massey University of New Zealand