Description
First ever, all-in-one, practical resource for emergency evacuation of people of all ages and health conditions from all kinds of workplaces, including small offices, skyscrapers, business and college campuses, industrial plants, stores, hospitals, and schools!
Comprehensive package of 600+ pages of book and downloadable resources!
Chaos ensues. Crowds become hysterical. Workers and visitors flee the burning building amid falling debris, run frantically through seemingly endless, smoke-filled hallways and stumble down crowded stairwells as fire alarms shriek through the darkness.
Panic sets in. No time for reflection. No time to figure out where to go!
Would your routine office fire drill be able to handle the large-scale chaos of a major disaster? Can you get everyone out safely in the face of a factory fire, explosion, or natural disaster? In Emergency Evacuation Planning for Your Workplace: From Chaos to Life-Saving Solutions, Jim Burtles leads you step-by-step through a planning methodology that saves lives. You can be assured your company will be ready and that everyone will know what to do — whatever the nature of the emergency.
In one practical, easy-to-read resource, Burtles helps you create a comprehensive plan to evacuate people of all ages and health conditions from workplaces such as small offices, skyscrapers, stores, industrial plants, hospitals, college campuses, and more. His carefully constructed methodology leads you through the development of organization-wide plans – ensuring that your procedures align with best practices, relevant regulations, sound governance, and corporate responsibility.
His five stages of an Emergency Evacuation Planning (EEP) Lifecycle include:
Set up the EEP program Bring management on board, get executive buy-in and policy approval to proceed.
Embed EEP into the corporate culture Begin your awareness campaign immediately, getting the message out to the community you are serving.
Understand the environment Explore which areas of the organization have emergency plans and which need to be covered in your overall EEP/
Agree upon an EEP strategy Work closely with people who know the premises to identify threats that could trigger an emergency, and visit and evaluate potential exit points.
Develop evacuation procedures Look at the people, their probable locations, their existing challenges. Determine if you will need one plan or a suite of plans.
Exercise and maintain the EEP Run regular exercises to familiarize everyone with plans and choices as often as needed to accommodate changing personnel and individual needs. Because this a long-term process, go back to the earlier parts of the cycle and review the plan to keep it current.
Thought-provoking discussion questions, real-life case studies and examples, comprehensive index, and detailed glossary facilitate both college and professional instruction.
Downloadable resources and tools practical toolkit full of innovative and field-tested plans, forms, checklists, tips, and tools to support you as you set up effective workplace evacuation procedures.
Instructor s Manual available for use by approved adopters in college courses and professional development training.
2013, Rothstein Associates Inc. 350 pages book PLUS 300+ pages of downloads (upon registration), glossary, index, 6 x 9 casebound (hardcover), ISBN 978-1-931332-56-9
Click here to purchase the HARDCOVER edition
Click here to purchase the SOFTCOVER edition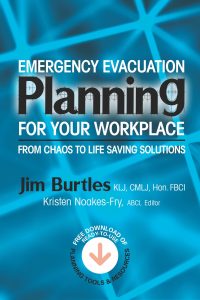 Contact Rothstein Associates, Inc. to request a complimentary copy to evaluate for classroom use.