Ten Reasons Why You Should Conduct Short Exercises
Charlie Maclean-Bristol talks about the benefits of short exercises, particularly if you are a beginner at running exercises.
Being short doesn't necessarily mean bad, well at least in business continuity exercises. If you are an exercise beginner or want to carry out more exercises, then here are 10 reasons why you should run short exercises.
To organize a complex tabletop, live, or SIMEX (simulation) exercise usually takes months of planning and preparation. A short exercise can be organized with thirty minutes' notice.
Major exercises are usually carried out once a year and may only consist of three hours of actual exercising. Short exercises can be run more often, giving you a greater total time exercising and keeping your skills up-to-date, rather than forgetting what's been learned in between annual exercises.
In my experience, most senior managers have a limited amount of time they are prepared to spend on preparing for incidents. Trying to get the required 3-4 hours to take part in the exercise needs to be diarized months in advance to ensure that all are available at the same time. A short exercise of an hour or even thirty minutes can be added before or after an existing meeting. Carrying out short exercises can often have a greater training benefit than one annual exercise. Keep in mind that longer SIMEX or complex tabletop exercises are necessary periodically as well as short exercises.
Carrying out shorter exercises more often allows a wide range of different scenarios to be chosen. In longer exercises, there is the requirement to focus on one likely scenario. If you run a less-likely scenario you could run into issues if the scenario is being questioned, bringing the credibility of the exercise into question and losing much of the benefit from the exercise.
If you are just starting to implement a business continuity or resilience program, it can be a long time before it seems like anything is happening, as the activity typically involves a small number of project staff. A risk assessment needs to be developed, plans need to be written, and only then can those in the program be trained or participate in an exercise. Carrying out a short exercise or two at the beginning of the program will help to provide those responding with some knowledge of how to respond to an incident, which can be valuable if an incident occurs while the program is being rolled out.
For some, business continuity can seem to be a dry subject and staff members may not engage with the training they receive. By getting them on their feet and coming up with their own solutions during a short exercise, you can engage with them and gain their interest in the training you deliver.
Some of the exercises presented in my Business Continuity Exercises book such as, "What, so what, now what" and "Horizon scanning during incidents, anticipating worst case," can be used as tools to look at how your organization can prepare for a known future event, such as a transport strike or a protest taking part in the vicinity of one of your office buildings.
The outputs of many of the exercises in my book can be used to develop response plans for different scenarios. Speed Exercising is a good means of developing the risk, issues, impacts, and actions associated with a particular incident. A large number of different people looking at the same scenario can be a lot more productive than a small group sitting together trying to develop the response and actions needed.
Short exercises are a good opportunity for less experienced practitioners to develop their skills and confidence in running exercises. The exercises in my book are simple to plan and run so you do not need to be a skilled practitioner to execute them.
Designated business continuity champions are those who have a business continuity role but are part-time and often do not conduct their own exercises. In this role, you may feel that you don't have the required skills or knowledge and wait for the business continuity manager to exercise the plans. By following the simple step-by-step methodology in my book, you can exercise your own plans without internal or external help.
=========================================
This article was originally published by BC Training Ltd.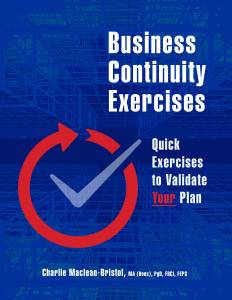 "Charlie drives home the importance of continuing to identify lessons from real-life incidents and crises, but more importantly how to learn the lessons and bring them into our plans. Running an exercise, no matter how simple, is always an opportunity to learn." – Deborah Higgins, Head of Cabinet Office, Emergency Planning College, United Kingdom