Continuity Insights' 2020 Management Conference
April 20, 2020

-

April 22, 2020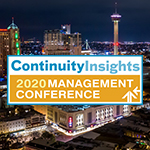 Continuity Insights has announced the full conference program, including speakers, sessions, plenaries, and panel discussions for the 2020 Continuity Insights Management Conference, taking place April 20-22, at the Hyatt Regency Hill Country Resort, San Antonio, Texas.
Continuity Insights Management Conference Schedule
The preliminary schedule kicks off on Saturday and Sunday, April 18-19 with a selection of pre-conference workshops and certification classes, providing in-depth learning related to key business continuity and resilience topics. The pre-conference workshops will be followed by the Sunday opening night reception hosted by the Business Continuity Institute (BCI) and the presentation of the 2020 BCI Americas Awards.
The main conference will commence on Monday, April 20 with the opening keynote, What to do When Things Go Wrong, to be presented by Fast Traffic Events President & Chief Experience Officer Frank Supovitz, author of What to Do When Things Go Wrong: A Five-Step Guide to Planning for and Surviving the Inevitable―And Coming Out Ahead.
Supovitz will stress managing every business problem like you were born for it – from a problem customer to a career-threatening business continuity crisis. It's not being negative or pessimistic to assume that something will always go wrong in business and in your career. It's being realistic. What you do when crisis hits is the only thing matters – and Supovitz's presentation will deliver everything you need to take positive action with confidence, skill, and professionalism.
For more than 30 years, Supovitz, an award-winning event producer, has been at the helm of some of the world's most prestigious, widely-viewed and well-attended sports and entertainment events, including the National Football League (Super Bowl, Pro Bowl, and NFL Draft), the National Hockey League, and Radio City Music Hall Productions.
The expanded 2020 conference program will include 70 individual sessions devoted to Program Development & Advancement, Case Studies (including the highly-anticipated "Ask the Experts" panels), Trending Topics, Measurement, Metrics, and Maturity, Emerging Technology, and Professional Development. Continuing education credits and certifications will be available to all conference attendees.
"Based on the overwhelming response from our faculty and Editorial Advisory Board, this is the most robust conference program we've ever assembled," said Robert Nakao, Executive Publisher of Continuity Insights. "Our goal is to provide education, networking, and the exchange of ideas and information to all business continuity professionals, regardless of the sophistication of their technology, industry, or company size."
The main conference program concludes on Wednesday, April 22. Post-conference certification and workshops will begin immediately after the conference concludes on Wednesday afternoon and continue Thursday through Saturday, April 23-25.
The full conference agenda is now available to review here. Registration is also open here