Written by Phil on December 30, 2010 in Books, Business Continuity, Promo, Special Offers.
The Third Edition of The Definitive Handbook of Business Continuity Management, by Andrew Hiles is now in stock and ready to ship! See below for a special offer!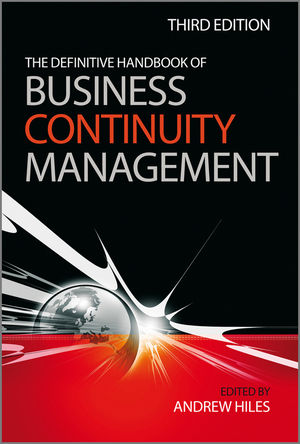 832 pages, Only $57.95.
SPECIAL OFFER:
Buy this new book and get Andrew Hiles' classic book, BUSINESS CONTINUITY: BEST PRACTICES for HALF PRICE!
Regularly $89.00 for that book, only $44.50 with this limited offer (only $102.45 for BOTH books!)

================================
With a pedigree going back over ten years, The Definitive Handbook of Business Continuity Management can rightly claim to be a classic guide to business risk management and contingency planning, with a style that makes it accessible to all business managers. Some of the original underlying principles remain the same – but much has changed. This is reflected in this radically updated third edition, with exciting and helpful new content from new and innovative contributors and new case studies bringing the book right up to the minute.
This book combines over 500 years of experience from leading Business Continuity experts of many countries. It is presented in an easy-to-follow format, explaining in detail the core BC activities incorporated in BS 25999, Business Continuity Guidelines, BS 25777 IT Disaster Recovery and other standards and in the body of knowledge common to the key business continuity institutes.
Contributors from America, Asia Pacific, Europe, China, India and the Middle East provide a truly global perspective, bringing their own insights and approaches to the subject, sharing best practice from the four corners of the world.
The book explores and summarizes the latest legislation, guidelines and standards impacting BC planning and management and explain their impact.
The structured format, with many revealing case studies, examples and checklists, provides a clear roadmap, simplifying and demystifying business continuity processes for those new to its disciplines and providing a benchmark of current best practice for those more experienced practitioners.
This book makes a massive contribution to the knowledge base of BC and risk management. It is essential reading for all business continuity, risk managers and auditors: none should be without it.
The Definitive Handbook of Business Continuity Management, 3rd Edition
TABLE OF CONTENTS
Contributors
Foreword by Lyndon Bird
Preface by David Honour
Introduction to the 3rd Edition by Andrew Hiles
How to Use this Book by Andrew Hiles
Section One Achieving and Maintaining Business Continuity: an executive overview
1 Enterprise Risk Management by Andrew Hiles
2 Developing a BCM Strategy in Line with Business Strategy by Gary Hibberd
3 The Importance of Business Strategy in Business Continuity Planning by Ranjit Kovilinkal Ramakrishnan and Satish Viswanathan
4 Multilateral Continuity Planning by Dennis C. Hamilton
5 Marketing Protection: a Justification for Funding of Total Asset Protection Programmes? by Andrew Hiles
6 Operational Risk Management
6-1 Operational Risk Management: a Primer by John Robinson
6-2 Operational Risk Management: Risk and Consequences by Peter Viner
7 Crisis Management, Emergency Management, BCM, DR: What's the Difference and How do They Fit Together? by Gregg Jacobsen and Sue Kerr
8 Business Continuity and Ethics by John Orlando
Section Two Planning for Business Continuity: a 'how-to' guide
9 Business Continuity Management Methodology by Malcolm Cornish
10 Project Initiation and Control by Jayne Howe
11 Risk Evaluation and Control: Practical Guidelines for Risk Assessment by Ian Charters
12 Business Impact Assessment
12-1 Business Impact Analysis by Peter Barnes
12-2 Business Impact Analysis: Building a Better Mousetrap by Andrew Hiles
13 BC Strategies for Information and Communications Technology
13-1 Strategies for Continuity and Availability for Information and Communications Technology (ICT) by Michael Smith and Piper-Anna Shields
13-2 Business Continuity for Telecommunications by Paul F. Kirvan
13-3 Planning to Recover Your Data: More Options by Thomas Carroll
13-4 Business Continuity Strategies for the Business or Work Areas by Neal Courtney
14 Strategies for Different Market Sectors
14-1 Business Continuity Strategies for the Financial Sector by Andrew Hiles
14-2 Business Continuity Strategies for Manufacturing and Logistics by Melvyn Musson
14-3 Business Continuity and the Supply Chain by Charlie Maclean-Bristol
14-4 Case Study: Implementing Business Continuity in the Upstream and Midstream Energy Sector (Petrochemicals and Refineries) by Vincent Tombros
14-5 From an Island to a Continent: Business Continuity in a Telecommunication Company by Timothe Graziani
14-6 BC Strategies in the Retail Sector by Steve Mellish
14-7 Strategies for Funding Recovery by Danny Rowland
15 Developing and Implementing the Written Plan by Andrew Hiles
16 Awareness and Training by Andrew Hiles
17 BC Plan Testing
17-1 BC Plan Testing by Tim Armit
17-2 Testing vs. Exercising: What's the Difference? by Philip Jan Rothstein
18 BCM Audit by Rolf von Rössing
Appendix 1 Case Studies by Peter Barnes, Andrew Hiles, Allen Johnson and Lyndon Bird
A1 A Storm, Earthquake, Explosion: a General Overview
A1 B Living Nightmares
A1 C World Trade Center Explosion – February 26, 1993
A1 D Hurricane Andrew, Miami – August 24, 1992
A1 E Chicago Floods – April 13, 1992
A1 F Thirty Seconds of Terror! The California Earthquake
A1 G After the Fire: First Interstate Bank, Los Angeles
A1 H One Meridian Plaza, Philadelphia
A1 I The Mercantile Fire
A1 J How Floods Can Ruin Your Day: London College of Printing
A1 K Flood Highlights
A1 L A Cautionary Tale
A1 M It Happened to Them
A1 N Fire Highlights
A1 O Wessex Regional Health Authority
A1 P The Bishopsgate Bomb – April 25, 1993
A1 Q City Bomb Blast, St Mary Axe – April 10, 1992
A1 R Explosion Roundup
A1 S Stop Thief!
A1 T Miscellaneous Highlights
A1 U Lessons in Risk Management from the Auckland Power Crisis
A1 V Foot and Mouth: A Preventable Disaster
A1 W The Madrid Rail Bombings – March 11, 2004
A1 X Istanbul Bombings – November 2003
A1 Y London Bombings – July 7, 2005 (7/7)
A1 Z Buncefield (UK) Oil Terminal Disaster – December 11, 2005
A1 AA Intellectual Property Theft and Business Continuity
A1 AB Euroclear Bank Uses BCM Framework to Manage the Impact of the Collapse of Lehman Brothers
A1 AC The Toyota Recalls, 2009-2010
A1 AD The Icelandic Volcanic Ash Plume – April 2010
A1 AE The 2010 BP Oil Spill – Gulf of Mexico
Appendix 2 Guidance Notes by Malcolm Cornish, Lyndon Bird, Allen Johnson and Russell Price
A2 A Pandemic Planning
A2 B Selecting the Tools to Support the Process
A2 C The Role of Insurance
A2 D Five Nines: Chasing the Chimera?
A2 E Consultancy without Tears
A2 F Coping with People in Recovery
A2 G Benchmarking and Business Continuity: Exploring and Using Benchmarking to Assess and Develop Your Business Continuity Management Programme
A2 H Changing Attitudes to Business Continuity in Private and Public Sectors
Appendix 3 Professional Associations, Certification Standards and Resources for BCM Practitioners by Mike Gifford, Lyndon Bird, Dhiraj Lal, Gary Liu, Russell Price and Dawn M. Shiley
Appendix 4 International Perspectives by Paul F. Kirvan, Lyndon Bird, Dhiraj Lal, Louise Theunissen and Andrew Hiles
A4 A International Standards and Legislation in Business Continuity
A4 B Business Continuity Management: International Perspectives in 2010
A4 C Business Continuity Planning in the Middle East and the Indian Subcontinent
A4 D Business Continuity Management in Africa
A4 E Business Continuity in China
Glossary of General Business Continuity Terms
Index
Tags: 978-0-470-67014-9, 9780470670149, Andrew Hiles, Definitive Handbook of Business Continuity Management, Hiles